SUPPORT & SAFETY
How to maintain your Folding Ladder by yourself?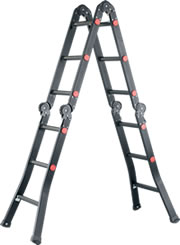 <Folding Ladder version>
Does your Ladder always "GAGA" when you Do need it?
Follow my steps; your Ladder will not be GAGA any more.
Please put the oil into the black joints before you start to use the folding ladder.
In order to let the oil infiltrates into the joints, please move the ladder's joints carefully.
After insure the joints and ladder are all in good condition, then, starting to use ladder.
Please storage the ladder inside after using.
We believe that "Ladder GAGA" will be left your life forever.
Try it!
Chiao Teng Hsin Ladder let your life easy and better.
» Choosing a safety and right ladder is not only became to your good tool, also insure your security and steady working condition.
We are real welcoming your calling if you have any concern in choose the right ladder.
Or, please contact us from our Facebook.
https://www.facebook.com/TaiwanCTHLadder